About Pastor John Farley
---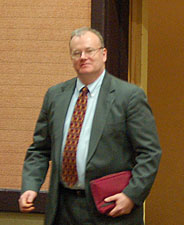 Pastor Farley was ordained by Pastor Robert R. McLaughlin of Grace Bible Church in Somerset, Massachusetts, where he faithfully served as an Assistant Pastor for many years.
Pastor Farley is very grateful for Pastor McLaughlin's teaching, training, kindness and friendship. Likewise, he's extremely grateful for the nurturing and support he has received for many years from members of the local assembly at Grace Bible Church and the Royal Family around the world who study under Pastor McLaughlin.
Pastor Farley and his family have now relocated to South Florida to begin the journey to which God has called them. South Florida and Lighthouse Bible Church have become their new home, where Pastor John faithfully teaches his congregation accurate Bible Doctrine week in and week out. Teaching the Word of God is Pastor Farley's calling and joy.