Pastor-Teacher
John Farley

Basics

Tuesday,
January 31, 2012
Evangelism, Part 10:
Fishers of men.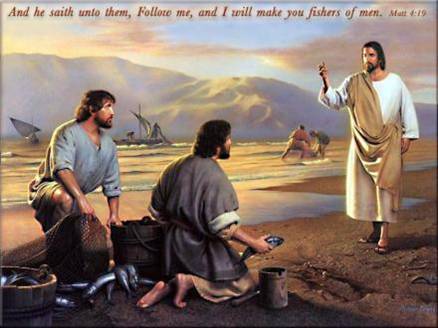 The Doctrine of Witnessing (Evangelism)
Principles of Witnessing
1. The responsibility of witnessing belongs to every believer.
2. The basic knowledge of witnessing involves the Person of the Lord Jesus Christ and His accomplishments on the Cross and by His Resurrection.

3. The challenge of witnessing comes from the doctrine of the unlimited atonement, - Christ died for all mankind.
1 Tim 4:10
For it is for this we labor and strive, because we have fixed our hope on the living God, who is the Savior of all men, especially of believers.
4. The method of witnessing is enhanced by your positive mental attitude related to your spiritual growth or maturity.

2 Peter 3:18
but grow in the grace and knowledge of our Lord and Savior Jesus Christ. To Him be the glory, both now and to the day of eternity. Amen.

5. Confidence in witnessing comes from your own assurance of eternal security, John 5:24, 10:28.

Eternal security means that no matter how badly you fail or how many wicked sins you commit, you will not lose your salvation.

As Christians, our greatest hope and confidence lies in the fact that at the moment of salvation we have eternal life and it will not be taken away.

John 10:28
"and I give eternal life to them, and they will never perish; and no one will snatch them out of My hand."
John 29
"My Father, who has given them to Me, is greater than all; and no one is able to snatch them out of the Father's hand."
6. The effectiveness of witnessing depends on the ministry of God the Holy Spirit, John 16:7-11.
Satan has been judged.

Righteousness is available in and through Christ.

The condemning sin is failure to believe in this perfect salvation in and through Christ the Savior.
The Holy Spirit convinces the unbeliever that they need a Savior.
The Holy Spirit makes the gospel message understandable.
The Holy Spirit makes the faith of a spiritually dead person effective for salvation.
1 Cor 1:18
For the word of the cross is foolishness to those who are perishing, but to us who are being saved it is the power of God.

7. The communication of witnessing occurs two ways - the example of your life (2 Cor 3:3, 6:3) and the words of your lips (2 Cor 5:18-21; 6:2).
8. The reward for witnessing is a part of your blessings for time and eternity (1 Thes 2:19-20; ).
Church age believers who reach spiritual maturity will receive special rewards directly from the Lord Jesus Christ at what is called Bema Seat judgment.
Some believers will receive the crown of rejoicing for being soul winners, 1 Th 2:19.
Prov 11:30
The fruit of the righteous is a tree of life,
And he who is wise wins souls.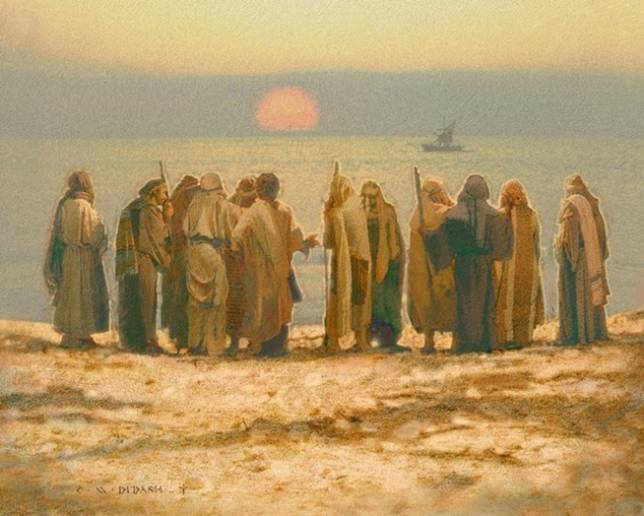 BE A FISHER OF MEN
Several of the apostles were fishermen. Four out of twelve to be exact.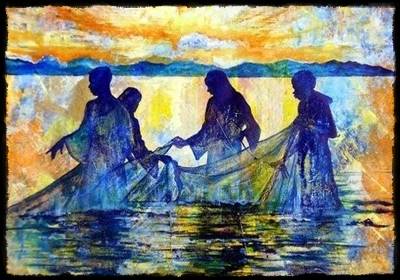 Take a brother or a sister in Christ along if you can when you set out to evangelize and witness.
1. Fishermen must have a DESIRE to fish. They must be motivated properly.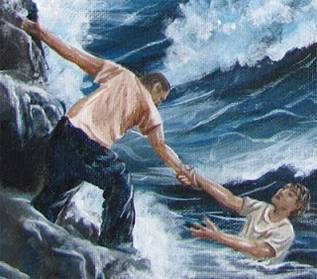 2. Fishermen must be EQUIPPED to fish - be PREPARED and be READY.

3. Fishermen must GO WHERE THE FISH ARE LOCATED.