Pastor-Teacher
John Farley
Wednesday,
January 30, 2013
Spiritual Gifts Part 363:
The qualifications of an apostle
We expect to close on the purchase of our new building this Thursday January 31
New building - Needs
Construction cleaning
Demolition/general clean-up
Permanent cleaning crew
Lawn and grounds keeping
General maintenance, sprinkler repair
Ushers/security
Labor during construction/renovation
1st General Work Day planned for Saturday February 9
info@lbible.org
The Doctrine of Spiritual Gifts
Point 5.
The individual spiritual gifts found in the New Testament
Point 6.
What are the categories of spiritual gifts?

The individual spiritual gifts and their categories.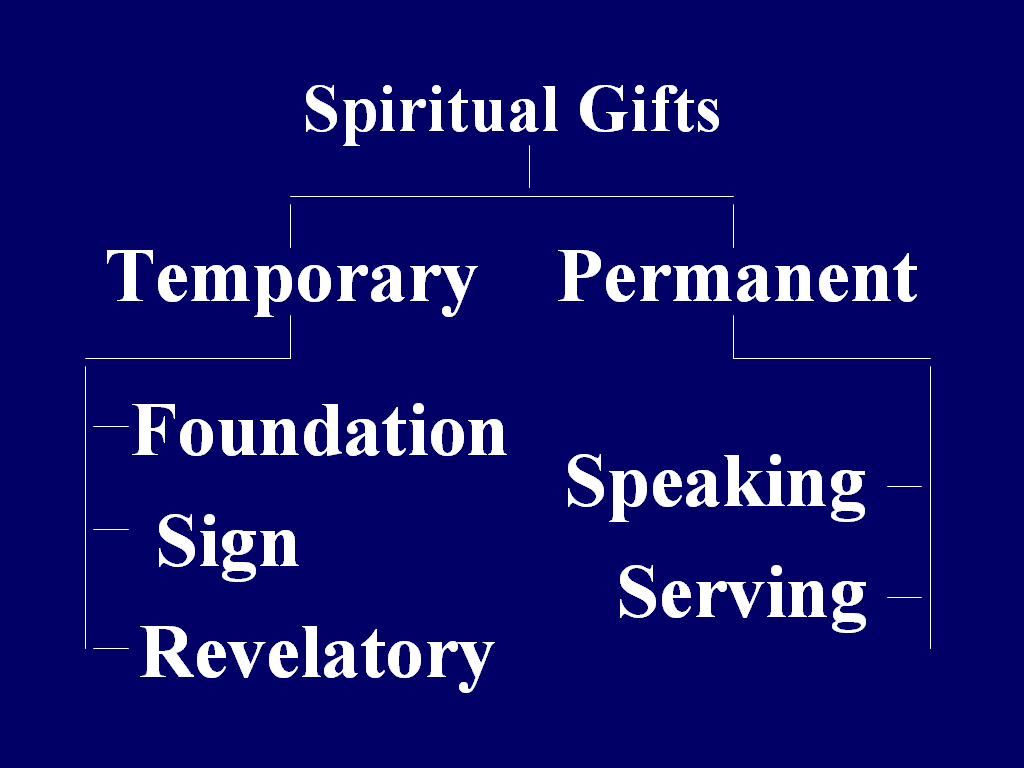 Point 7.
Temporary spiritual gifts
Under this point, we will
(a) examine what the temporary spiritual gifts were; and
(b) see the reasons why we know that they were temporary.
There were three varieties of temporary gifts: foundational,
manifestation (or sign),
and revelatory gifts.
Foundational gifts
The temporary spiritual gifts of apostle and prophet were foundational; .
The foundation of a structure is only laid once.

And God has appointed in the church, first apostles, second prophets, third teachers,
a. The gift of apostle.

And the wall of the city had twelve foundation stones, and on them were the twelve names of the twelve apostles of the Lamb.
Paul takes pains to emphasize that he is most definitely an authentic apostle and so designated by Christ Himself.
He is writing this letter as an apostle, a fully authorized representative of Christ with an approved message.
apostolos is the Greek word that is translated here "apostle".

It is a transliteration.
apostolos was first used for a high-ranking admiral or general officer chosen by counsel to command an Athenian fleet on a military expedition.
The governor of the founded colony was called an apostolos.
So the word apostolos connotes command responsibility.
The word apostolos in the New Testament is used to mean a delegate, a messenger, one sent with orders and with full authority.
An apostle is a man entrusted with a mission, and the powers to carry it out are conferred upon him.
An apostle is one chosen and sent with a special mission as the fully authorized representative of the sender.
The person sent is as the person who sends, , .

"Truly, truly, I say to you, he who receives whomever I send receives Me; and he who receives Me receives Him who sent Me."
The apostolos has a charge and a calling to represent the person and cause of Another.
What are the qualifications of an apostle in the Church Age?

What characteristics have to be there?
We get our truth from the New Testament epistles. How can we rely on the fact that these are the authorized books and not any others?
1. Saw the resurrected Christ.
The apostles had to personally see the resurrected Lord, , , .
a. He saw the resurrected Christ on the Damascus Road, ; ; .
b. The Lord appeared to Paul again in Arabia, .
c. He appeared to Paul in the temple, ; 22:7-21.
d. He appeared to Paul in prison,
2. Selected, called, and appointed by the Lord Jesus Christ.
The apostles had to be appointed by the LORD, not elected by men, ,28; .
In , we learn that TLJC appointed the twelve apostles.
Paul is the one who replaced Judas Iscariot - not Matthias. ; , .