John Farley
Pastor-Teacher
Wednesday,
May 6, 2015
Backpacks and Boulders
"God cannot give you more than you can handle."
It's not true. It's another one of those Christian myths.
Can you see that this passage is dealing with temptation?
Our lives, our life struggles, consist of more than just temptation.
The burdens of our lives include temptation, but they ALSO include many other things.
Sorrow, loss, persecution, sickness,
tribulation, distress, famine, nakedness, peril, sword
hardships, sleeplessness, poverty, betrayal, false accusations, rejection, weakness, the thorn in the flesh
difficulties…dangers, worries and concerns about those we love…
And at times these things DO get the better of us.

They are MORE than WE can handle.
They were more than Paul could handle…
God allows more than we can handle so that we would learn not to trust in ourselves…
… but in our great and awesome loving God who even raises the dead!
And also to see that we need help FROM ONE ANOTHER!
This myth is comforting TO THEM- because it removes any pressure for THEM to help their brother or sister!!
verse 5 the word is "load". In verse 2 it is a different word - "burden".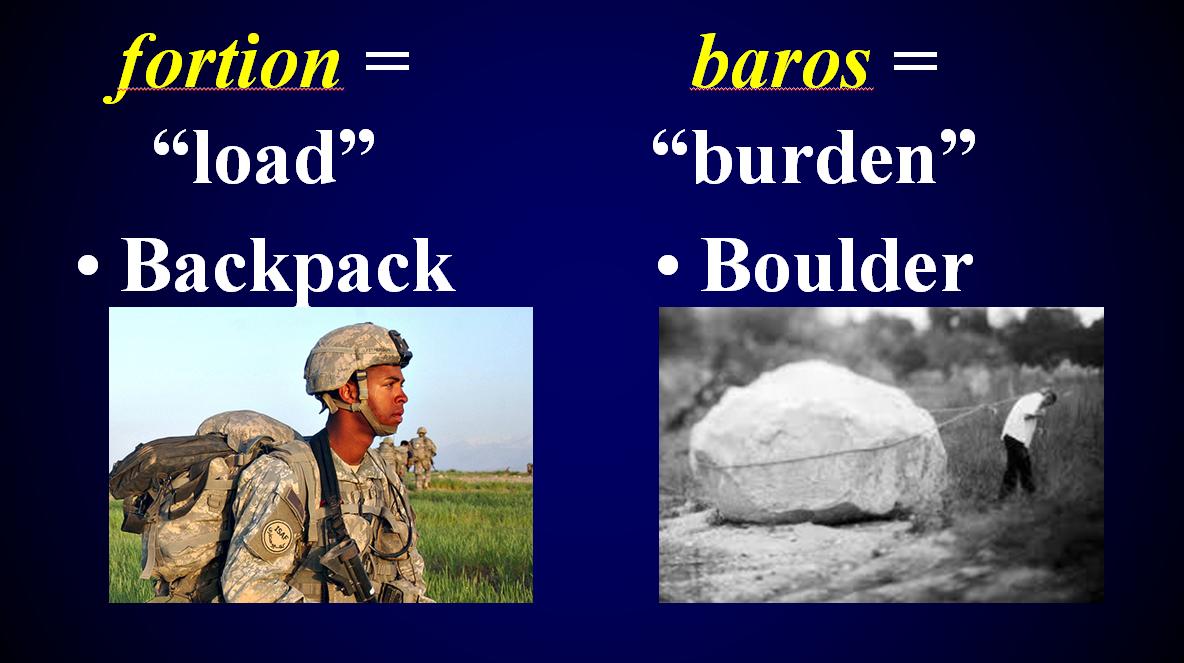 Our load is what we DO have the strength to carry. It is what the Lord has asked us to put on our shoulders every day.
But burdens are TOO HEAVY for us to carry without help.
Sometimes the Lord allows us to be burdened BEYOND what we are able to bear ourselves.
This teaches us to rely on Him.
This also teaches others that they have a responsibility to help their brother or sister out when these things happen!
What can I do to help?